Portland's Largest Street Fair
Saturday July 15, 2023
10:00 am - 10:00 pm
N Mississippi Ave from Fremont to Skidmore
SKIDMORE STREET STAGE
Presented by Prost
1:30 – 2:30 PM Whiskey Deaf
3:00 – 4:00 PM Johnny Franco
4:30 – 5:30 PM A Town Called Home
6:00 – 7:00 PM The Purple Herons
7:30 – 9:30 PM In the Mix
DJ Sets by Brenda Russell
BEECH ST STREET STAGE
Presented by Trailhead Credit Union
1:00 – 2:00 PM Arietta Ward Duo 2:30 – 3:30 PM Pool Boys 4:00 – 5:30 PM Norman Sylvester 6:00 – 7:00 PM Gaytheist 7:30 – 8:30 PM Low Bar Chorale 9:00 – 10:00 PM J Graves
MISSISSIPPI PIZZA STAGE
KIDS and FAMILY FRIENDLY
11:00 AM – 12:00 PM Mr Ben 1:00 – 2:00 PM Tallulah's Daddy 2:30 – 3:30 PM Pointed Man Band 4:00 – 5:00 PM Jenny Whizbang 6:00 – 8:00 PM The Rubin Brothers
FREMONT STREET STAGE
1:00 – 2:00 PM Bart Hafeman and Hit Machine
2:00 – 3:00 PM Next G
3:00 – 4:00 PM Arietta Ward
5:00 – 6:00 PM Ronnie Wright
7:00 – 8:00 PM Alaoe
8:00 – 10:00 PM Eric Cortez
DJ Sets by DJ Trent Barry
DJ Sets by OG One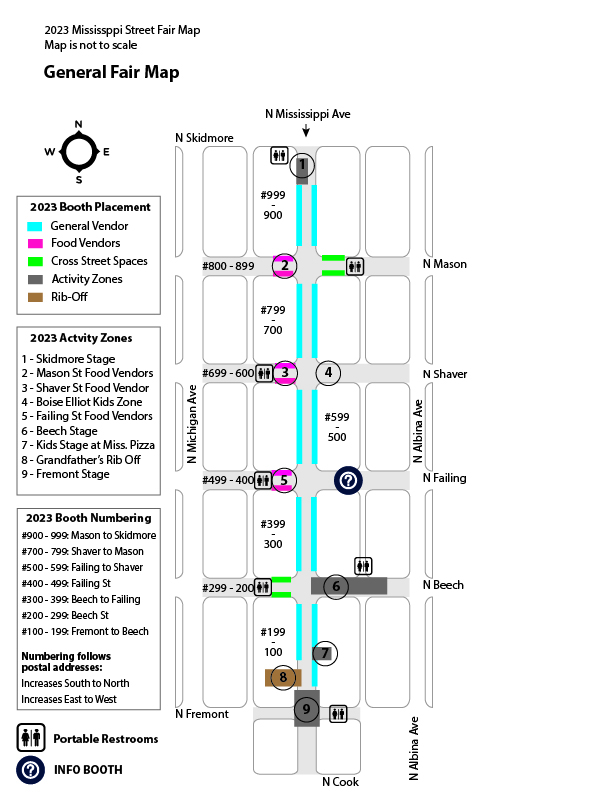 Getting Here & Parking
Drive:
Interstate 5
I5 North to Alberta Street exit, right off exit, right onto N Albina Ave.
I5 South to Alberta Street exit, left off exit, right onto N Albina Ave.
Surface Streets
North: via MLK or Williams to N Fremont or Skidmore and head west
South: via MLK ,Vancouver, Albina to N Skidmore and head east
Interstate Ave: To N Mississippi or head east on N Skidmore
TriMet
Bus: #4: Exit at stop at N Skidmore and Mississippi or stops on N Borthwick (detour route)
Max Yellow Line: Overlook stop, then east over the Failing Street pedestrian bridge. Skidmore Stop, then east on Skidmore
Parking
On street parking.
Paid parking at the Boise Elliot School. Enter via N Fremont and Kerby. Proceeds benefit the school.
Paid parking at the SEI School. Enter via N Failing. Proceeds benefit the school.
Please be respective of driveways, handicap zones, other no parking zones. Parking enforcement will be out.
Street Closure Info
Time: 5:00 am to Midnight
Streets Closed:
N. Mississippi Ave between N. Cook and N. Skidmore Ave
N. Beech, N Failing, N Shaver, N Mason between N. Michigan and N. Albina
Alleys: Local access to the Michigan and Albina alleyways will be maintained throughout the event.
Exception: One way alley access from N Fremont to Beech
Detour: N Mississippi Ave detour is on Borthwick Ave
Parking: Please park off these street blocks during the street closure. Courtesy tow area is N Failing at Michigan and N Mason at Albina.
Other FAQ
Information: Located at N Mississippi and Shaver
Pets: Best to leave the dog at home. It's warm and crowded. If you must, animals must be leashed and under control.

Pro Tip: Dog pool is at Salty's Pet Supply
Kids: We are very family friendly. Visit the Kids Zone, or the Kids Stage at Mississippi Pizza.
Smoking: The fair is a public space, so all applicable smoking laws apply. Please be respectful.
Weather: The fair is a rain or shine event.

Vendors: